Registration for the 2019 RECON Science Team Meeting (and Orientation Training for new team leads and participants) will officially close on Monday February 25.

REGISTRATION FORM
Registration Closes Monday, February 25
We are excited to bring together representatives from our 50+ RECON communities for our 2019 RECON Science Team Meeting to be held at Lake Mead National Recreation Area near Boulder City, Nevada.
Workshop Location:
Lake Mead National Recreation Area Water Safety Center, Boulder City, Nevada
RECON Orientation Training for Newer Team Members:
Thursday (2/28) 2:00PM – Friday (3/1) 12:00PM
RECON Science Team Meeting for All Team Members:
Friday (3/1) 2:00PM – Sunday (3/3) 12:00PM
The full RECON Science Team Meeting to be held Friday-Sunday February 28-March 3. RECON will cover the costs for shared lodging, travel, and substitute costs for at least one representative from each RECON community to attend this full network meeting. New this year, we will also hold a RECON Orientation Training starting on Thursday February 28 for new team leaders and participant who have not previously attended a RECON workshop. RECON will also provide funding for at least 12 student participants to attend along with teacher or parent chaperones. Each community may send additional participants who will be responsible for their own lodging and transportation costs.
Goals for the meeting include:
Discussing RECON science results and upcoming events and plans
Sharing recent results from the New Horizons flyby of 2014MU69, along with occultation campaigns involving MU69 and Trojan asteroid Leucus
Obtaining participant feedback to inform our RECON 3.0 proposal submission
Identifying strategies for recruitment and retention of team members (especially students)
Training new team members and practicing for upcoming events using RECON equipment
Both meetings, the Orientation Training and the full RECON Science Team Meeting, will be held at the Water Safety Center in Lake Mead National Recreation Area.  Click here to download a pdf of the meeting agenda.


Hoover Dam Lodge
18000 Highway 93
Boulder City, Nevada 89005
http://hooverdamlodge.com/
See below for details on how lodging will be arranged and paid for.
Checkin is guaranteed after 4PM, but you can check at front desk to see if rooms are available earlier
Primary Participants: RECON will pay for at least one representative from each RECON team along with roughly a dozen students and their chaperones. For participants funded by RECON, two participants will be assigned to each room with two queen beds. Rooming assignments will be made based on preferences indicated when you register for the conference using the link at the top of this webpage.
Additional Participants: Participants not funded by RECON can reserve rooms at the RECON conference block rate. Please register first using the link at the top of this webpage. We will then provide details on how to reserve a room at the Hoover Dam Lodge at the conference rate.

Maps of the Lake Mead National Recreation Area (LMNRA) Water Safety Center and Hoover Dam Lodge are provided below.  You should plan to register at the Water Safety Center between 1-2PM on your arrival date.  Lunch will not be provided on this date, so we ask that you stop for lunch in or on your way to Boulder City.  Check-in at the Hoover Dam Lodge is guaranteed at 4PM, so most of us will check in after we break at 5PM on the first day (see Meeting Agenda).  However, you can check at the front desk of the Hoover Dam Lodge if you arrive before 1PM to see if your room is available.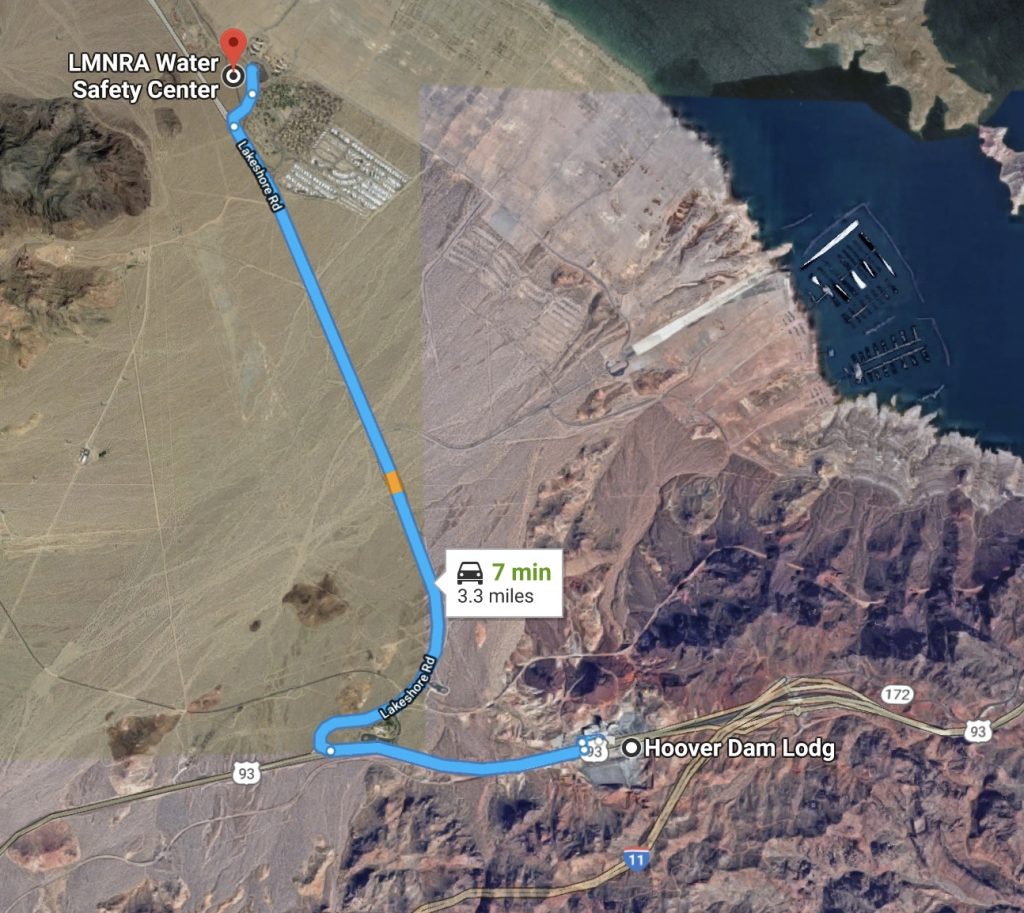 If you are the primary representative from your community, RECON will cover your transportation costs as follows:
Driving: If you live within 4 hours of Boulder City and plan to drive yourself and/or other attendees, RECON will reimburse your mileage or arrange for a rental vehicle and reimburse petrol. We encourage participants to carpool with other community members wherever possible.
Flying: For those flying, please complete the registration form first and do not book your own flight. The information provided in the form will be given to our travel agency (Christopherson Business Travel) who will contact you to arrange flights. RECON will pay for your flight, and reimburse you after the event for applicable costs such as airport shuttles or parking.
Shuttles: RECON will arrange ground transportation to and from Las Vegas Airport and the Hoover Dam Lodge. Enjoy the ride and connecting with other RECON members on the ~30 minute drive down to Boulder City!
If you are not the primary representative, you are welcome to carpool with a primary representative being funded by RECON. Otherwise, you will be responsible for your own transportation costs.
Travel reimbursement instructions for those funded by RECON will be provided at the event.
Our NSF grant will cover the following meals for all meeting attendees. Breakfasts and dinners will be served at the Hoover Dam Lodge. Lunches will be catered at our conference location at the Lake Mead Water Safety Center.

Driving: Teams that are driving to the team meeting are encouraged to bring their whole RECON setup (telescope, camera, IOTA, laptop, power supply, cables).
Flying: Teams traveling via plane should bring their RECON laptop (and its power supply) as well as any suspect or faulty components as makes sense to bring in carry-on luggage.
All Teams:
Warm clothes (including jacket, hat, gloves, and warm shoes) – Prepare for highs around 60°F during the day and lows around 40°F at night
ID for those flying
Flashlight
Water bottle
Your enthusiasm and curiosity
For more information on the 2019 RECON Orientation Training and RECON Science Team Meeting, contact tnorecon-org@mailman.boulder.swri.edu.